The Standard Edition of Pictorial Webster's is printed in a run of 100 books, numbered and signed by the author. Each book is sewn by hand on double flexible supports with a lable printed with gold leaf on the spine. There are two basic binding styles: Shown above is a full leather binding in dark brown goatskin with an original design made with wood type and linotype pertaining to various organizational patterns of the English alphabet embossed on the front cover. The back cover has a mirror image in numeric form. The full leather also has lines and the alphabet blind-tooled by hand on the foredges echoing the running alphabet seen on International Dictionaries. If requested, I will also blind tool the name of the institution or individual who has purchased the copy on the cover for no additional charge (again with a numeric translation on the corresponding back panel). The full leather bindings with three edges decorated are $3500.(Also available in other shades of brown and alum tawed leather. Click to see copies in various colors of leather. Webster Binding Gallery.)
. . . . . .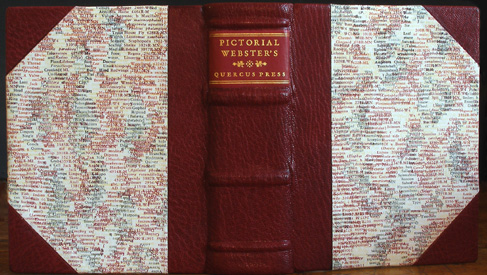 This other version (I hope to soon have a better photograph) is the half leather binding in red leather covered with special marbelized text paper printed at Quercus Press. Read the words that appeared on the center of the top-edge of this copy:

The words "Type Power" - made up of two different linotype slugs printed atop another astonished me - and also notice the word "Swords" (Peter Kotch are you looking at this?) This basic binding with top edge decorated with the same type-marbled design is $2600. (Also available in brown, light brown and alum tawed leather and with text-marbled papers that are predominantly red and yellow.) A copy with all three edges decorated with the type marbliezed design is $2750.